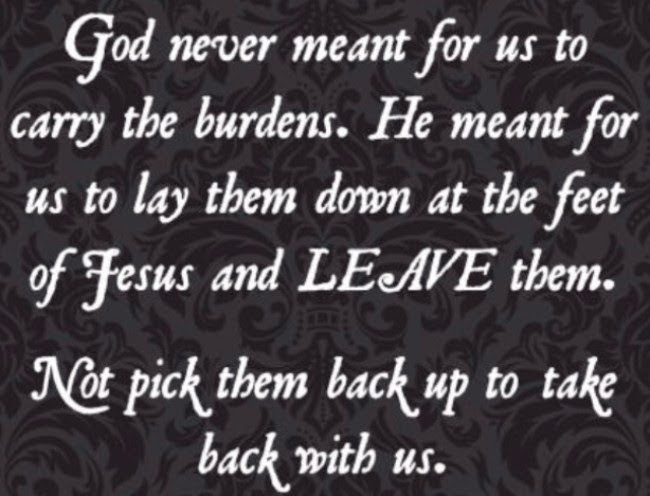 I am the same yesterday, today and forever. Therefore, when things seem completely beyond your ability, come back to Me; the Rock of your faith. When everything seems to be spinning out of control, I am your place of peace.  Come into My presence to receive healing and restoration from the demands on your time and energy. Lay it all down. Trust Me for wisdom and direction and I will point the way in which you should go.  
My Child, don't be pressured into doing everything all at once.  Seek for wisdom; pace yourself and take things one day at a time. Be strong in faith as you move from one thing to the next.  Lay it all down and lean on Me.  I am your source of life and strength.  Resist the temptation to try to use natural remedies to fix a spiritual condition. If you're not sure, seek Me first. Yes, seek Me and you will find solace and directions for the next step. 

There are times when all you will need to do is be quiet and take your hands off everything. This is one of those times. So, come now.  Lay it all down and let Me carry your burdens and make the load lighter. And while I'm taking care of things, I want you to set your mind and heart on things that build you up and not tear you down. Therefore, come and to Me; lay it all down, and be refreshed and renewed.
Read and Meditate on His Word:
Heb. 13:8 Jesus Christ is the same yesterday, today, and forever.
Psa. 55:22  Cast thy burden upon the LORD, and he shall sustain thee: he shall never suffer the righteous to be moved.
Psa. 73:26  My flesh and my heart faileth: but God is the strength of my heart and my portion forever.
Isa. 26:3  Thou wilt keep him in perfect peace, whose mind is stayed on thee: because he trusteth in thee.
Mat. 11:28 Come to Me, all you who labor and are heavy laden, and I will give you rest.
Heb.12:1 Wherefore seeing we also are compassed about with so great a cloud of witnesses, let us lay aside every weight and the sin which doth so easily beset us, and let us run with patience the race that is set before us